Tag: Bride
World fashion
For 2015 prom girls, Bulgarian magazine Bulka (Bride) has prepared a range of prom dresses by different designers and ateliers for every taste.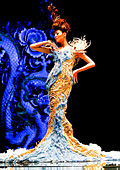 World fashion
The collection of wedding dresses of the Chinese designer Guo Pei was shown in Beijing. Well-known for her lavish frocks that are worn by celebrities on the red carpet, Guo Pei manages to infuse Chinese elements into the world of fashion.

"I meet all kinds of celebrities in my work, but what really touches me is designing for normal people. It is probably something that they will have once in a lifetime, and they will treasure it for a life time, and that design will bring them happiness," said Guo.