Tag: Evgenia Kalkandjieva
Competitions & awards
A lot of beauty and charm promise the organizers of this year's edition of the contest Miss Bulgaria, which will be held for the first time in a special TV reality format. Everyone will be able to sense the emotions directly on TV7.

Conferencier of the gala ceremony will be the Bulgarian pop folk singer Kamelia, mentor will be Azis. Official designer of the contest this year is the top designer Sofia Borisova. The dresses are specially made for the evening from silk chiffon, organdy, satin and Spanish taffeta.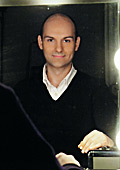 Make-up
In May 2009 the make-up artist of Bulgarian stars - Kiril Chalakov celebrated his 15-year work anniversary.

He organized for his partners and clients through the years an elegant presentation at the Sheraton Sofia hotel, called "La vie en rose".

There he presented his album "Kiril Chalakov 15 years beauty", which includes selected photos of twenty of the most popular women in Bulgaria.

Many surprises expected the guests of the event.