Tag: Herve Leger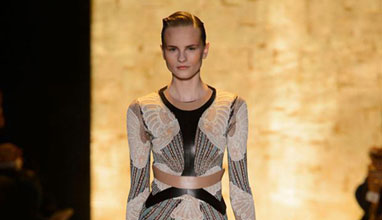 Collections
For Fall 2015, Herve Leger by Max Azria draws its inspiration from the magnificent basilica de la sagrada famlia by Antoni Gaudi. One of the most outstanding figures of the Catalan culture, Gaudi developed a highly expressive language of his own and a body work that speaks directly to the senses. The collection journeys through the symbolism captured in three of the Basilica's facades and its outstanding stained glass windows: nativity, passion and glory, which signify the concepts of birth, sacrifice and toil in human nature.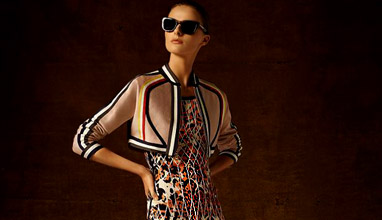 Collections
For Pre-Fall 2015, Lubov and Max Azria are trying once again to make their bandage dress look original and different. This season they chose the African-print jacquard and used racing stripes to freshen up their body-con pieces.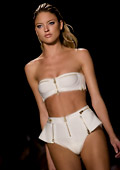 Collections
And now we head to the runway at New York Fashion Week and check out the latest fashion creations by Hervé Léger. Once again, the label's designer duo dismissed the usual "sex appeal" dresses and opted for a more sophisticated look. And meanwhile, they've added swimsuits to their line-up of famed skin-tight bandage dresses.
The Hervé Léger signature bandage dress made its way down the runway on Saturday at the Mercedes-Benz Fashion Week in New York.