Tag: Jana Kosheva
Collections
The collection of evening and prom dresses of the young designer is inspired by the city lights.

It aims to show the beauty and elegance that every modern woman holds in herself. Some of the fabrics used are satin, taffeta and chiffon.

The dresses are decorated with lace, feathers and Swarovski crystals with handmade details. .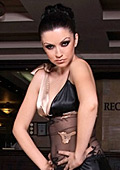 Collections
The star of "Sunny Music" Antonina, become the new face of Jana Kosheva's collection of evening dresses.

The photo session was photographed by Emil Djumailiev in the exquisite atmosphere of Vega Hotel.
Antonina posed with over 30 unique dresses. The pop-folk singer says, that it was a great pleasure to stand in front of the camera again, as when she was a model.