Tag: METAMORPHOSIS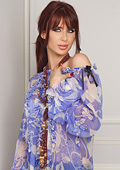 World fashion
Blumarine Spring/Summer 2012 collection is a contemporary version of a strong and cosmopolitan look for women for a laid back and individual style of dress without foregoing an ironic flirtiness.

Seduction is energy, dynamic transformation, forthright femininity, lively mood with exotic influence.
A deluxe mix and match for the main collection, with a wide selection of items for day and evening.