Tag: Schiaparelli
Collections
The essence of style and of a cosmopolitan life: the verticality of a New York skyscraper and of the Vendôme column, London's fantasy and extravagance, Paris' chic and cultural life and the baroque and light of Rome all blend in a collection aimed at today's women.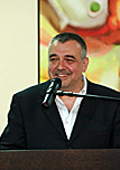 Fashion magazines and books
Prof. Lubomir Stoykov's new book World Fashion. Part Three: Italy is already a cultural and aesthetical fact. During its official premiere at Vitosha Park Hotel, it was presented by H.E. Stefano Benazzo – ambassador of Republic of Italy to Bulgaria who is also author of the introductory words. Mr. Benazzo notices: The work of Prof. Lubomir Stoykov has the merit to tell the story of the evolution of the Italian fashion through the stories of our biggest designers from the post-war period until the present, showing that fashion is most of all a result of the labour of really unusually people rather than of more or less inspired persons, more or less anti conformists. I am grateful to Prof. Stoykov, because thanks to him, many Bulgarians who love so much our country, will be able to "understand" the Italian fashion, will be able to explain its language and symbols, rather than only fall in love from first sight.