Tag: Sisely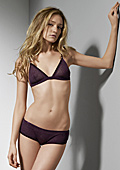 Collections
Super-light and sophisticated are the best adjectives to describe the SISLEY UNDERWEAR collection for next autumn-winter.

A concentration of lightness, ethereality and evanescence in a beguilingly seductive mixture of luxury materials and stylish designs.
Women's collection
Lace sets that are lighter than air yet provide beautiful support, especially the soft cups and push-ups; shiny silk shorts and cropped vests trimmed with cloud-like frills; briefs and matching vest tops in net.