Tag: Tani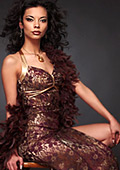 Collections
For the designer to make the human dreams come true is a calling that turned into profession. Flirting with fashion in the newest collection formal garments Spring/Summer 2009 with the motto "Take everything, indulge yourself to your dreams", the designer team created dresses that combine extravagance, luxury, elegance, beauty and glamor.

Inspired by the magic of fabrics, the created by the team dresses twinkle with the silk nimbleness of the taffeta, organdy and chiffon and mysteriously shine with the shades of satin and tulle, creating an atmosphere of luxury and charm.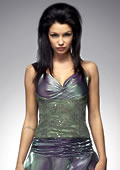 Trends
The new fashion line TN Fashion by TANI will be a pleasant surprise for the girls that finish school this year.

It brings a brand new taste by using the wonderba effect in the corsets design. The effect is achieved by delicate lifting, shaping and visual enlarging of the bosom. This gives the advantage of no need to go searching the most appropriate bra for the feast night.

The accents in the new graduation collection of this Bulgarian fashion house are deep necklines, naked backs, high slashes, dresses and corsets shaping the silhouette, multi-hemlines, asymmetry as well as the so-called lingings – a revived element back to the 80s fashion style.
Models and photomodels
The 14-year old Tania Sabkova impressed the jury of the competition "Model of the Universe Bulgaria 2002" that took place on 7 july in "Arbanassi palace" near Veliko Tarnovo.