Tag: V-necks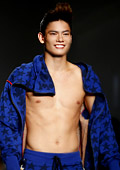 Collections
'East Side Story' is the name of Sibling's Spring-Summer 2014 collection for men, which was presented on 17 June 2013, during the London Fashion Week in Britain.
The wood is a traditional gift for fifth anniversary and the wood theme is a key part of Sibling's collection, because 2013 is the fifth year of brand's men's range.
So, the wood theme was amplified by jacquards and a backdrop derived from the woodgrain work of artist Richard Woods.
Key ingredients: Sporty look, lightweight woven knits, cartoon touch, panels of circular links and diamond lattices, shorts, three-quarter-length trousers and deep V-necks.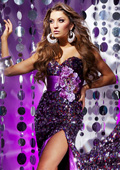 Fashion trends
Bold colors will be a popular fashion trend for prom dresses 2012. Though the colors are similar to prom 2011, the style of the dresses is different. Forget about fairytale princess dresses. Long, sleek dresses will be the hottest fashion trend for 2012. Some of the dresses feature halters and deep V-necks. Strapless dresses with sweetheart necklines are also a popular look.

Dresses for prom 2012, even the long ones, reveal some skin. Some dresses feature a slit that goes up to mid-thigh, while other dresses have cut-outs on the sides or back.