Tag: bio t-shirts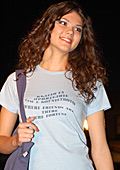 Fashion trends
On the 8th edition of one of the biggest fashion events in Bulgaria - "Fashion Evenings" that was held on 13th and 14th of June 2009 in Grand Hotel Varna in "Sv. Konstantin I Elena" resort SoledoArts presented bio t-shirts made from organic cotton of "Earth Positive".

Bio-cotton is grown without chemicals with gathered rain water. Harmful chemicals are also not used during the manufacturing and treatment of the organic cotton and the ecologically clean products are of a higher quality.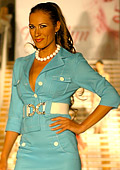 Fashion shows
On 13 and 14 June 2009 in Grand hotel Varna, St. Konstantin and Elena thiumphed fashion and beauty. The eight edition of one of the biggest fashion events in Bulgaria - "Fashion evenings" gathered those who appreciate beauty on a fashion show, which presented collections of famous Bulgarian designers and fashion houses, as well as importers of quality garments and accessories.

The fashion show was held with the kind stewardship of Grand hotel Varna and with the support of its general director Mr. Ivan Portnih. Official sponsor were the cigarettes Merilyn Slims. Producer of the event is Ekaterina Toneva, Mrs. Bulgaria World Beauty 2007, the organization and performance is made by Amalia Tincheva. The major media partner was the Bulgarian fashion directory Fashion.bg, which celebrated 10 years since its creation.