Tag: crocodile leather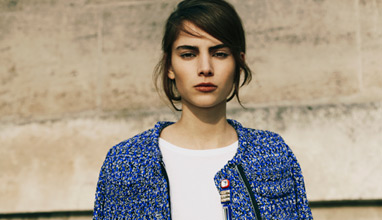 Collections
Sonia Rykiel innovated not just with the cut of her garments, but also with her philosophy of fashion. She collaborated with the popular French mail-order company Les 3 Suisses in 1977 and then released a renegade fragrance, 7ème sens, the following year. She designed sweaters closer to the body than they had ever been — a sweater had never been sexier. Declared "Queen of Knits" by Women's Wear Daily in 1972, Sonia Rykiel became an international icon.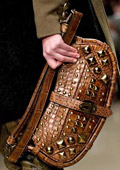 Accessories
The oversized handbags may be more comfortable for both work and leisure but sometimes an occasion, or an outfit, calls for a smaller bag that still packs personality. That's when you go for Burberry's Alligator Sling Bag ($14,500) - one imposing accessory

The alligator provides nice texture and the beige color provides very warm feeling. The bag is decorated with armour inspired metallic studs, which create a geometric design hemmed with subtle tonal topstitching.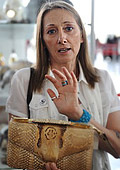 Accessories
There is no doubt that Nancy Gonzalez designs unforgettably beautiful handbags. From the craftsmanship, to her choice of exotic leather, color, details and silhouette – it all comes perfectly together to create a bag that the consumer can literally wear forever.

Its eye popping burnt orange crocodile leather is suitable throughout the year and given the size, you can fit many personal items while the bag maintains its shape.