Tag: curves
Collections
'It's easy to mark the exact time and place this collection was born: October 25th, in a Queens photo studio. That morning, as my team and I watched Steven Klein shoot Cindy, Claudia and Naomi for Balmain's latest campaign, we were in awe of what was happening in front of the camera. The poise. The professionalism. And the amazing power of confident women who are aware of the singular beauty of their own bodies - and the effect that they can have upon others'.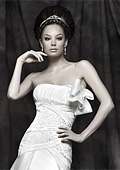 Trends
For the world's leading designers, the idea of a wedding dress is associated with luxury, airiness and indescribable femininity.

This is evident from their bridal collections. A wonderful option to be elegant and seductive on your wedding day is to select a dress, showered in the Hollywood glow of the 50s.
Catwalks don't stop to impress us with the sophisticated and glamorous models like the ones, shown on the red carpet.