Tag: ethnic patterns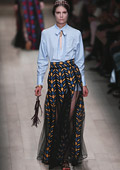 Collections
Elegance and serenity on the presentation of Valentino Spring-Summer 2014 collection on October 1, 2013, during the Paris Fashion Week.
'The collection is a journey amidst elements borrowed from imaginary ethnic groups,' stated the show notes at Valentino. 'Subtle almost imperceptible references are blended in a vertical silhouette with a sleek sense of regality.'
It combines the Italian aristocratic look with Balkan-style ethnic patterns.