Tag: folds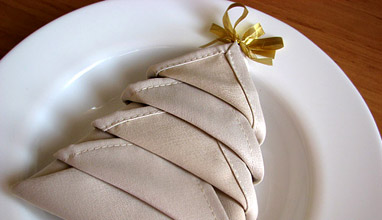 How-To
The New Year is here! And we offer you to keep the Christmas spirit for longer by making a decoration for your guests and family in a Christmas Tree shape and put it on your dinner table, during the whole January.
It's easy, fast and nice.
All you need is a square cloth napkin, a pin and a ribbon to decorate the top.
Trends
2011 Golden Globe Awards captured every heart with eye catching, colorful gowns, seen everywhere on the red carped. One of the most repeated trend, that was everywhere was the green dresses fashion trend. Emerald green is coming back as we saw on the night of the awards, some of the celebrities in green includes Angelina Jolie, Catherine Zeta-Jones and Mila Kunis. Beautiful Angelina Jolie, sparkled in a sequined emerald green Versace gown, with long sleeves, bold shoulders and glittering beads.