Tag: jaw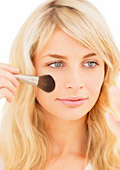 Make-up
There are four basic face shapes – long, square, heart and of course oval, which is considered as the ideal shape.

Whatever is your shape, skillful shading and highlighting can help to enhance your good points and minimize the less desirable ones, achieving the ideal oval face.

The foundation must always be lighter shade than your overall base.