How to correct your face shape with makeup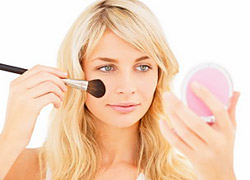 There are four basic face shapes – long, square, heart and of course oval, which is considered as the ideal shape. Whatever is your shape, skillful shading and highlighting can help to enhance your good points and minimize the less desirable ones, achieving the ideal oval face. The foundation must always be lighter shade than your overall base. Highlights make features more prominent and shades (darker tones) make features recede into the background. You should highlight your good points and shadow the points you want to make more invisible.
A few tips before you start – keep your hair off your face by tying it back or using a hair band or scarf. Examine your face from the front and in profile to understand how it is structured. Decide which features you want to shadow and highlight and then choose a foundation color that blends perfectly with your skin tone when applied along the jawline.
Apply a slightly darker shade of foundation to the areas where you want to emphasize the shadows such as a heavy jawline. Use a slightly lighter shade on the areas that you want to highlight, such as cheekbones. Apply the base foundation to the whole face and neck, blending into the border lines of the light and dark shades. Check that the makeup looks natural and go back over the light and shadow areas if necessary.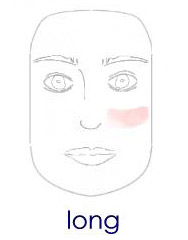 Long face

To reduce the length of a long face, use a darker shade of foundation to shade around the top of the forehead, blending is into the hairline.
Shade along the jawline too, and under the cheekbones.
Lighter the area above the cheekbones to highlight, then apply the base foundation, blending well.
Reapply the lighter and darker shades if necessary.
Brush blusher along the cheekbones.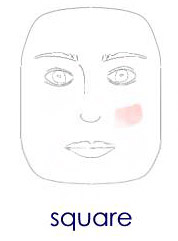 Square face

Soften the square face by using a darker foundation to shade an almost triangular shape on either side of the jaw.
Shade the sides of the forehead to help reduce the width of the top part of the face.
Dot a lighter shade above the cheekbones to highlight, then apply base foundation blending well.
Brush blusher along the cheekbones.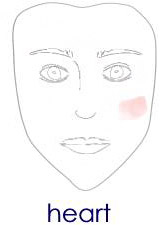 Heart face

To even up a heart-shaped face, use a darker shade of foundation on the sides of the forehead to help reduce the width of the face and also on the tip of the chin to make it look less pointed.
Dot a lighter shade just above the cheekbones to highlight, then apply the base foundation, blending well. Reapply the lighter and darker shades if necessary.
Brush blusher along the cheekbones blending it up onto the temples.


Hits: 19656 | Leave a comment