Tag: jungle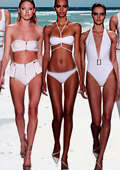 Fashion trends
The Trend Council is ready with the Swimwear trend forecast for Spring-Summer 2015. Season's swimwear evolves into a new product category for many major runway designers fueling an increase in resort, beach and swimwear trends. The biggest trends to follow are African and Moroccan influences as well as Active Sport detailing.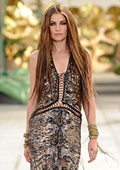 Fashion shows
Roberto Cavalli models strutted down the catwalk in a jungle-themed collection of snakeskin and tight trousers on the final day of Milan Fashion Week

The Italian style stalwart welcomed guests including Heidi Klum, Leona Lewis and Taylor Swift to the front row of the show, which was held in a glass tent.