Tag: low heels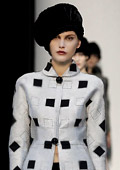 Collections
La Garçonne style - the independent female archetype of the 30s, whose sense of liberation reflected in 'borrowed-from-the-boys' wardrobe with a sense of softness - that's the key of Giorgio Armani's Womenswear collection for Fall/Winter 2013-2014.
During the fashion show models were dressed in cropped, fluid pants, often sat at the hip and streamlined cropped or longer jackets, fastened with one or two gumball-size black buttons.
The palette is formal in black, white, light purple, gray and silver.