Tag: marble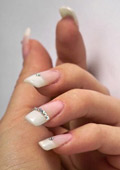 Manicure
You can make marble design on a fake nails or on your own nails, just make sure that you have prepared your nails before the procedure.

Timing is very important, because the nail polish hardens quickly on the water surface, so make sure that all the bottles are opened and ready.

Try to use new nail polish, which is not thick or quick drying, but more washy. The new nail polish will stay on the surface on the water, but the old one maybe won't. So try to use a good quality, new nail polish with liquid and even consistency.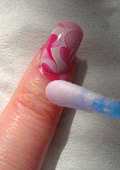 Manicure
The technique is easy and specially fits for those who cannot paint or just want quick to make their nails beautiful. Painting nails takes much longer time, needs much more patience.

For the nail design we need:
- water vessel
- base nail polisher in the appropriate colour
- variable polishers in wishable colours by which we will design nails
- colourless top polisher