Tag: metallic coating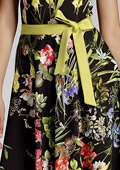 Fashion trends
Belts are irreplaceable fashion accessory for any season.
Ladies belts for Summer 2013 are very diverse. Designers emphasize the waist, feminine and graceful, offering interesting fashion ideas.
During the hot season of 2013, the belt's width is not defined. Fashion collections offer both thin and wide belts with traditional or invisible zipper at the back. Corset-belts are less common, but some designers offer original models that emphasize the waist or hips.