Tag: new york
World fashion
Ralph Lauren brought all the glamour that the Wild West probably never had to the runway on the final day of Spring-Summer 2011 New York Fashion Week.

The always influential Ralph Lauren show Thursday was a must for an army of fashion editors and buyers from Europe, Japan and Russia, not to mention representatives from big luxury clothing chains like Sak's, Bergdorf Goodman and Bloomingdale's.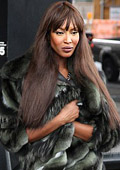 Models and photomodels
British model Naomi Campbell proved that she takes her job seriously after she posed with a fur vest on a hot NYC afternoon to model for Dennis Basso's fall/winter 2010 campaign.

In addition to the fur vest she was wearing a one piece, green swimsuit, high heels and jewelry. The model put her long legs on show in front of a gas pump and also paraded a series of fur coats.