Tag: ponytail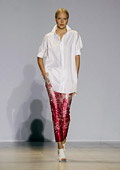 Collections
Diverse but stylish, colorful but harmonious, traditional but innovative - garments of Lie Sang-Bong's Spring-Summer 2014 collection are all these!
The famous South Korean Pret-A-Porter fashion designer who studied at the Seoul Institute of the Arts presented his works on October 2, 2013 in France during the Paris Fashion Week.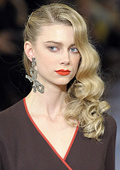 Hair
One of the hairstyles that conquered the catwalk this season is the one side, messy bun hairstyle.

This hairstyle is repeated in all of the fashion capitals in recent months. For best results use styling products for hair, which will sleek even the most rebellious hair. Try to sleek and fold the hair tightly and tie it in a bun or a ponytail. The vision is very suitable for hot summer days, and it is very easy to make.