Tag: rhinestone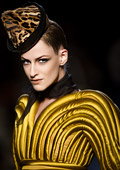 Collections
In his Fall-Winter 2013/2014 Haute Couture Collection, Jean Paul Gaultier employs richly saturated shades of black, red, and gold along with a dizzying array of big cat prints on coats, jackets, tights, cuffs and scarves.
It's about the powerful woman - bold, daring and impressive - combination of a modern Mata Hari, a Parisian femme fatale, a fashionable Catwoman.
Key ingredients are statement shoulders and tight waists.