Tag: tulles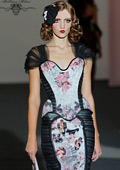 Collections
The designer BIBIAN BLUE shows in VALENCIA FASHION WEEK her collection "Roses Lullaby": "A spectacular proposal for the next season Spring/Summer 2013, where we can see for first time in the cat wall a selection of wedding dresses full of femininity and surprising sweetness.

Apotheosis of color, with a back to childhood, sweet and pastel shades, vintage prints and collages in corsets. There is a contrast of colors, crochet textures and a great use of lace and sheer fabrics, chiffon and tulles.
Collections
CAPRICCIO is the new collection for Spring-Summer 2010 of designer Polia Milanova for MON AMOUR. Attractive, provocative short dresses is the leading line in the prom dresses' collection. Made with striking French fabric laces, taffeta, organza and metallic tulles, which add shine and luxury.
br /> The complex hand frills, French cordon lace and lace, encrusted with Swarovski stones, create the uniqueness of the dresses.