Tag: women fashion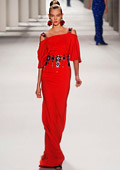 Collections
'There is no reference to the past - I'm trying to go to the future!' said world famous fashion designer Carolina Herrera about her Fall/Winter 2014 womenswear collection.
Carolina offers to ladies both daywear and eveningwear.
For days - volume with rounded shoulders on top (to emphasize a tiny waist), over slim skirts and pants in brown, navy and royal blue; for nights - prints in geometric patterns and rusty shades of blue, bronze and orange.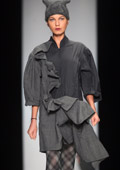 Fashion shows
We selected for you the most important fashion shows, fairs, exhibitions and other events till the end of 2013 - fashion shows and fashion week dates for New York, Paris, Milan, Los Angeles, Miami, Tokyo and other cities around the world.