Collection Spring - Summer 2010 of fashion house Arda - Ruse
The warm season is about to start and we are ready to open your wardrobes for the Spring-Summer 2010 collection.
The spring-summer season promises to be colourful, bright, translucent and shimmering. A real scene of fairy of colors that seems to hint the dark crisis is going away slowly but steadily.
The neutral of colors of the light tonality (white and beige) impart femininity and lightness. The bright colours (red, purple, green) give the woman an aura of sensuality and sexiness. One color is trying to become the leader ant the hit for the Spring-Summer 2010 season – Turquoise.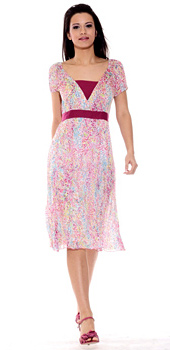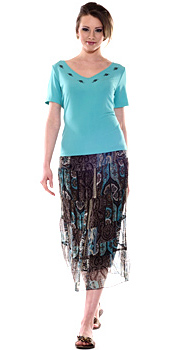 The prints this season are solid-colored as well as with beautiful floral designs. The playful stripes add freshness to the collection of Arda-Ruse.

The fabrics are typical for the season – natural, light, ethereal and translucent combined with additional decorations of sequins and embroidery.

The queen of the collection is the dress – festive and sport-elegant. The skirt is long, with flounces, office and every-day style and has a noteworthy place in our company's collection. For diversity and practicality we did not forget about trousers. They are combined with bustiers, blouses, tops, jackets, and tunics – an irreplaceable part of every woman's wardrobe.

For the business women the theme ARDA-DUO presents the freshness of the summers mixed with the seriousness of the office.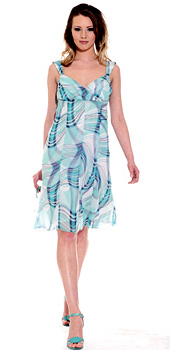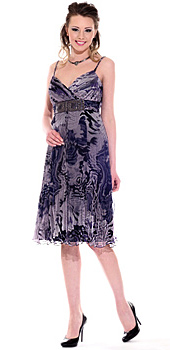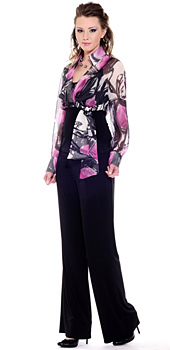 For your spare time, for the summer vacation the theme ARDA-SPORT will embrace your summer energy.

For plus-sized ladies the theme ARDA-MAX presents designs that will emphasize on their feminine shapes.

The theme ARDA-VISION is a little oasis of stylish and exquisite models that will accompany your special occasions.

This is the season during which ARDA-RUSE offers its respectable clients femininity, elegancy and comfort. Look at what we offer you and feel like a true woman – fashionably, comfortably and economically dressed.




Hits: 10257 | Leave a comment