The good breakfast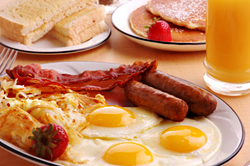 Here is a list of the products , according to their use, which are perfect for breakfast .

And although every organism needs to have a lots of different substances, breakfast after getting up from bed is undoubtedly the most important meal of the day .


Orange juice. It will give you a good supply of vitamin C throughout the day.
Rye bread. This component of breakfast contains a quality mixture of different carbohydrates, fibers, vitamin C and mineral salts.
Muesli. They are rich in carbohydrates and minerals.
Fruits.
Yoghurt. Increases resistance to stress at the expense of large amount of protein and calcium and helps to strengthen immunity.
Cheese. Contains a lot of calcium and protein.
Honey. Fructose provides quick flow of energy and acetylcholine helps to deal with stress.
Coffee or black tea can refresh you, but you can't spend half of the day with only one of these products.
White toast. They are rich in many carbohydrates, but do not have enough vitamins and micronutrients.
Marmalade and jam. Lots of energy, and a few minerals.
Eggs. Rich in vitamin A and protein but also In fat.





Hits: 10856 | Leave a comment