Black tea - the best way to lose weight
Black tea is a variety of tea that is more oxidized than the oolong, green, and white varieties. Black tea from China can be sweet or spicy, with a hint of chocolate or the sweet fragrance of orchids. This is one of the most common teas known to mankind and its most important ingredient is caffeine. The tea plant is a tree that grows only in certain climates.

Unlike high levels of caffeine found in coffee, the low amounts in black tea promotes blood flow in the brain without overstimulating the heart. The caffeine in black tea sharpens mental focus and concentration, and the trace element fluoride inhibits tooth decay. Black tea also contains abuindant tannins, astringent chemicals and soothing anti-inflammatory effects on the digestive tract.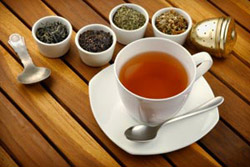 According to traditional Chinese belief, the black tea is effective in the control of body weight. After few researches it was proven that this is true - the ingredients in tea, that are helping to control the weight are caffeine and catechins. They contribute to improving the overall health, heart, lungs, kidneys and on top of that - they help the person get rid of excess weight. Other benefits of black tea are prevention of cardiovascular disease and cancer, lowing the blood sugar and cholesterol levels. It is a powerful antioxidant.

Another important advantage that is essential in the weight loss benefit is the heightened metabolism. Drinking tea makes your metabolism become more extreme in its rate. Thus, the body is able to burn fats and 2.5 times more calories than green tea, all night long.

If you want to loose some weight or just to improve your health and fight the signs of aging, we recommend you to drink black tea more often.


Hits: 20490 | Leave a comment