Tag: Iris van Herpen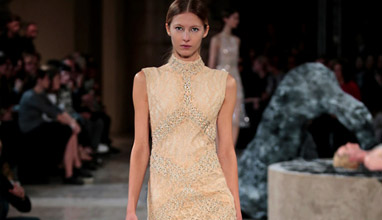 Collections
'The beautiful potential of plants and other organisms to form living architecture inspired me to make a collection that is tangled like a maze around the body. Inspiration came from the way plants and their roots grow, and how roots have been used to grow living bridges in the forests of India. This tradition of growing bridges inspired me to re-envision my process of making a garment'.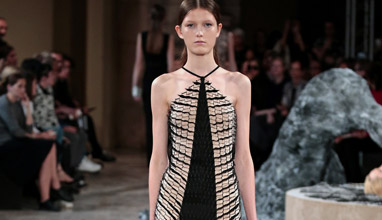 World fashion
'In all my work I try to make clear that fashion is an artistic expression, showing and wearing art, and not just a functional and devoid of content or commercial tool. With my work I intend to show that fashion can certainly have an added value to the world, that it can be timeless and that its consumption can be less important then its beginning'.
Fashion shows
The absolute highlight on the penultimate day of the Mercedes-Benz Fashion Week Berlin was Iris van Herpen's show in the venue at the Brandenburg Gate, presented by Mercedes-Benz and ELLE. The Dutch designer, already a rising star in her native land and one of the most celebrated performers at the Paris haute couture fashion shows, presented a true firework of originality and avant-garde beauty.