Tag: Kaviar Gauche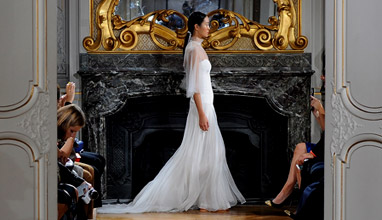 Collections
Designers Alexandra Fischer-Roehler and Johanna Kühl have once again found inspiration in a floral element of nature: the iris, a delicate and striking blossom that combines mystic and earthly qualities and is symbolic of creativity and true love. Named after the eponymous Greek goddess, the personification of the rainbow, it has myriad facets. But in its purest elemental form, a white blossom, it serves as the recurring theme of the new Bridal Couture collection by Kaviar Gauche.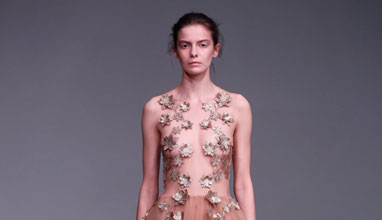 Collections
Johanna Kühl and Alexandra Fischer-Roehler of Kaviar Gauche are placing the focus of their coming collection on gracefully romantic couture with elements from an eveningwear and bridal context. In order to express the concept of a sensual image of woman as a divine creature, the designers were inspired by the female form in Greek mythology. "Les Oreades", the painting in the Musée D'Orsay by French painter William-Adolphe Bouguereau, exerted a strong fascination on the designers as a source of inspiration for the legends of immortal feminine deities.
Collections
Gracefully and seductively, she makes her entrance. She, the modern Berlin woman in softly flowing plissé, diaphanous lace creations with their floral beauty and open mesh structures in the form of organic elements – these wisps of fabric allows her to dissolve in a combination of lightness, transparency and modern coolness. Here and there a sparkling embellishment reflects the city lights. The Berlinoise plays with contrasts – and is delicate and raw at the same time. Self-confidence and effortless style on all levels define her individualistic attitude. She loves the fast moving, the urban and industrial, the big city of Berlin and its influences. At the same time she infuses all her memories and illusions of France into her life here, in the rough metropolis.