Tag: LFW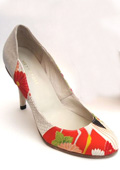 Accessories
Bespoke shoe designer Hetty Rose launched her first ever Ready to Wear collection for London Fashion Week.

The Ready to Wear collection will be available to buy from October this year. Customers will be able to purchase shoes from www.hettyrose.co.uk, selective boutiques in the UK and internationally. The key classic and top selling styles, which include Mika, Yuki, Kiki, Haruka and Mami, have been selected as part of the collection. In the future the collections will include more accessories; such as bags, interiors, baby shoes and men's ties. Prices currently start at £150 for a pair of shoes.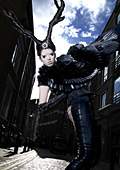 World fashion
Marko Mitanovski is a Fashion Designer and Graduate of the "College of Design", Belgrade, Serbia. His collection Spring - Summer 2010 is unique and provocative and attracted the attention of people and media at London Fashion Week, where it was presented as part of Vauxhall Fashion Scout's "One to Watch" show.

His designs have also been showcased at ceremonies including the "Nokia L'Amour Award", in which he was awarded "Best Young Designer" and at Belgrade Fashion Week in October '08.