Tag: Manolo Blahnik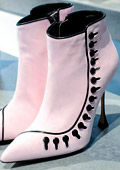 Collections
Legendary Spanish-born shoe designer Manolo Blahnik presented his Fall-Winter 14/15 collection on February 9, 2014 during the New York Fashion Week (for the first time ever).
Collection includes: a variety of flats, booties and a few tall boots, bold colored suede, silk pumps, embroidered and brocaded details, polished laces.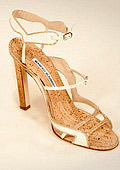 Accessories
World famous designer and luxury shoemaker Manolo Blahnik designed a new collection of eco-friendly shoes made from fish scale. The only artificial material is the cork. The collection is part of a collaboration with US-based eco-designer Marcia Patmos and will be included in the Spring-Summer 2012 runway show in New York.

The original shoes will be sold for $895 at Manolo Blahnik stores.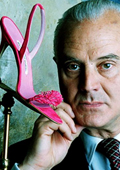 Collections
The story of Manolo Blahnik began in 1973 when he created his first collection for Ossie Clark - one of the most famous fashion designers in Britain.

Soon after that, Manolo became famous and opened his own shoe shop in the heart of London, which exists to this day and almost 40 years attracts thousands and thousands of admirers of the great shoe "wizard".