Tag: Susana Escribano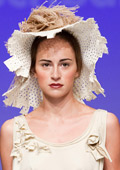 World fashion
When times become hard we feel the need to return to our roots, the current crisis reduces our development possibilities and it forces us to look to our origins, we look behind, to a past time that sometimes was better and a feeling of nostalgia is imposed. But we also want to feel people and being treated as unique copies.

Lifestyle is then the result of an optimistic cultural exploration and renovation that, in global environments that spread to the uniformity, it pushes us to look for the authentic and genuine.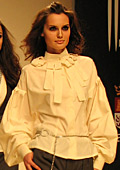 World fashion
Susana Escribano is a young designer from Spain. She presented her collection Autumn/Winter 2009/2010 at Castilla y Leon Fashion week in March 2009.


Her collection is inspired by the Dark Punk-Goth world, where darkness and mystery accompany you, where you feel pleased to be an active part of darkness, gloom and death.


To be Gothic is not only to be sensitive, to read the damned poets and to listen to Lagrimosa. To be Gothic is also to be able to seduce to owns and to scare the strangers. A Gothic is born, it is not made.