Tag: bad
World fashion
Moscow, annually in the list of planet's most fashion oriented cities, is hosting Mercedes-Benz Fashion Week Russia on 11-16 March 2016. Come and see collections from over 50 designers from Russia, Georgia, Ukraine and other countries.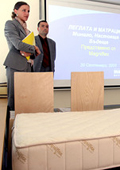 Fashion advices
American scientists are advising us not to be afraid of bad dreams. According to their research bad dreams are not so bad for our emotional state at all. In fact they help us cope with the negative emotions and fears from our day.

Most times bad dreams overtake a little before dawn, during the so called REM (rapid eye movement).