Tag: edible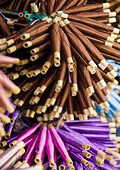 Fashion trends
The fashion trends for Autumn-Winter 2013/2014 we present are created by Lenzing AG - a global market leader for man-made cellulose fibers. Lenzing supplies the global textile and nonwovens industry with high-quality man-made cellulose fibers and is the leading supplier in many business-to-business markets. The portfolio ranges from dissolving pulp, standard and specialty cellulose fibers to high-quality plastic polymer products and engineering services.

The company suggests the following themes for the season: ELITIST, MAJESTIC, SYNTHETIC, EDIBLE, STORM and RESORT.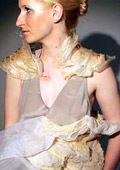 Curious
Most fashion students keep their finished design pieces in a wardrobe, but 22-year old Emily Crane has to use a freezer.

Kingston University fashion student created Haute Edible Couture fashion series – new strain of edible "clothing". The young designer lives by the expression "you are what you eat" and creates intricate designs, all of which are edible. Emily Crane uses gelatin, seaweed and food dyes to form her beautiful garments and accessories.