Tag: embellishments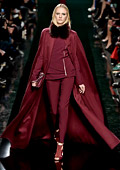 Collections
Lebanese designer Elie Saab presented his Fall-Winter 2014/2015 Ready to wear collection yesterday (March 3, 2014) during the Paris Fashion Week.
Saab is one of the Hollywood's stars' favorite fashion designers for his unique style and femininity of his gowns. Last proof about that was the Oskars ceremony where Angelina Jolie was wearing Saab's nude hued tulle dress, covered in strategically placed silver beading.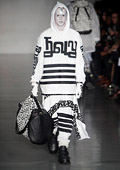 Collections
On January 8, 2014 during the London Fashion Week, Marjan Pejoski presented his occult collection full of runic graffiti. He said that his latest outing was born under the sign of the Four Aitches: Hindu, Himalaya, Holy, Hockey - Spiritual and secular, something old and something modern.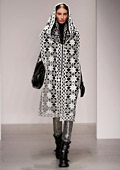 Collections
Following the success of Marjan Pejoski's self-titled label, KTZ began as the in-house brand of his and Sasko Bezovski's 'Kokon To Zai' boutiques and has quickly developed outspoken garments that feature symbols inspired by music and traveling.
KTZ presented a remarkable east-meets-west bold and loud womenswear Fall-Winter 2014/2015 collection yesterday (18 February 2014) at Somerset House BFC Showspace during the London Fashion Week.