Tag: extravagant
Collections
Unusual but original clothing collection was shown on another day of London Fashion Week.
he British fashion house KTZ show the trends for Spring/Summer 2015. The designers used the East Asian motifs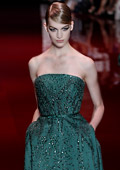 Collections
Princesses' dresses in the richest of colors.
This is the key of Elie Saab's Haute Couture Fall-Winter 2013/2014 collection.
The 49-year-old Lebanese designer, who is one of the world's most fashionable couturiers, showed richly embroidered designs in emerald green, navy blue, a deep red, silver, and cream, during the Paris Fashion Week in France.
Accessories
The young designer Kate Cusack offers interesting and extravagant jewelry, made of zippers! Although quite unusual, the designer has managed to create truly unique pieces that can be worn in everyday life..

Besides making jewelry, Kate is engaged in the design of costumes, wigs and various types of extravagant dresses and accessories.