Tag: frocks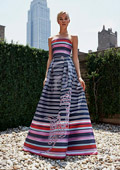 Collections
Talented Venezuelan-American fashion designer Carolina Herrera, whose creations are always full of pure beauty and femininity, said about her Resort 2014 collection:
'Prints, that's what this collection is all about, prints and seasonless, because there are no real seasons for clothes anymore; in Summer somewhere it's Winter, or in Winter somewhere it's Summer. It's important everything can be worn all year round'.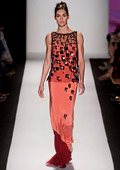 Collections
For her collection for Spring-Summer 2014, Carolina Herrera was looking for inspiration in 50s and 60s art works of Venezuelan artists Jesús Rafael Soto and Carlos Cruz-Diez.
'You are going to be dizzy! It's about Kinetic Art - it's eye-popping!', Carolina Herrera explained.
There are plenty of stripes, curved line patterns and fluttering silk.