Tag: hand knitted
Fashion for the home
Cotton Pouf is a Bulgarian company, which produces hand knitted pouf furnishings, accessories for your home, personal fashion items for ladies.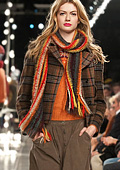 World fashion
United Colors of Benetton Fall-Winter 2012/2013 introduces modern classics through the use of contemporary craftsmanship, celebrating colors and the use of color as only the brand can!

The prevailing mood across the women's, men's and accessory collections is inspired by English heritage and outdoor dressing, reinvented through the creative use of bright colors, and the application of new fabrics and computerized knitting technologies.
Fashion collections
Every woman, who wishes to look original and exquisite chooses boutique or unique clothes. An excellent choice are the fine hand knitted blouses.

At Fashion fiesta Albena 2007 the company from Rousse IvMan presented their collection boutique hand made knittwear for summer 2007. The combination of youth and love towards hand knitting make every garment, designed and produced by the IvMan team unique. The models are made of high quality yarns - cotton and silk, mainly in the modern for the season light colours. The natural materials ensure comfort in the hot summer days and evenings.