Tag: nostalgia
Fashion in the industry
Please, watch the video once again. What did you notice? It made you feel better, it made you dance, it made you smile? Most probably. But I guess that you also noticed the clothing. These colorful suits and the whole eye-catching retro styling and atmosphere are definitely a key factor for the video's huge success - over 1.2 billion views, $100 000 earnings per week and the Brit Award for British Single of the Year for 2015.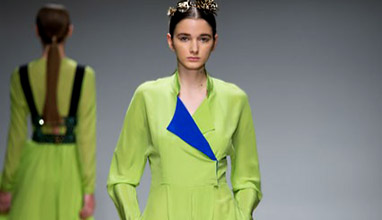 Collections
Not a single muse but an impresice picture as a souvenir: a perfume, a step of long legs drawn by the silk clothes made to live in a film like a diva. On the catwalk, thousand versions of a world that is coming back, of the couture and it seems to find in any outfit the sign of contemporary nostalgia for the exaltation of feminine beauty.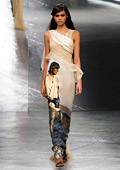 Collections
Growing up in California, 'Star Wars' was a 'big obsession' for Rodarte designer-sisters Kate and Laura Mulleavy. And they've decided that their collection for Fall-Winter 2014/2015 is the right place to show it including the images of Luke Skywalker, C-3PO, R2-D2 and Yoda in a few of their garments, shown on February 11, 2014 in New York, during the Mercedes-Benz Fashion Week.