Tag: smoky eyes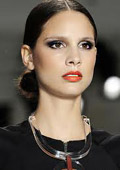 Health & Beauty
Spring is already knocking on our door. You may not believe it, but after the Christmas holidays, the warmer weather comes imperceptibly, and a fresh, new trends will come with it.

The black color famously never goes out of fashion and the smokey, black makeup is present this spring and summer too. Black and smokey grays are smudged out over the lid and under the eye to give a mysterious look. The heavy eye makeup is worn with a nude lips and just a hint of blush on the cheeks.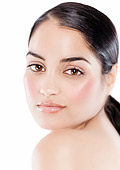 Make-up
Purple lips

Wear purple lipstick this Fall and you will be on top of the trends. According to various Fall runway makeup trend reports, the plum colors is in for 2010. The purple lip it's all you need.

Let your mouth be the main course and keep the eyes light. It is important that you choose the right shade – women with golden or darker skin tones can wear a blue-based plum, ant those with fair skin – stick to pinky purples.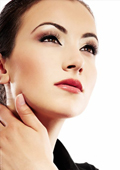 Fashion trends
As in previous seasons, and during this summer the most important makeup rule is the perfect base. Fond De Teint must be applied evenly without forming spots. The tan of the entire face must be perfectly smoothed – if the first step to perfect makeup is done well, we can avoid the heavy eye makeup, because this season trends will be all about natural makeup. Interesting in makeup for summer 2010 is the contrast not between the eyes and lips, but between eyes-eyebrows. The fashion trends make necessary the thick and dark eyebrows with a very bright and gentle eye makeup.