Tag: tassels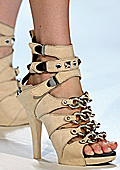 Fashion trends
This summer the designers will surely be able to satisfy the majority of their customers. The models are varied and special attention is paid to the details.

The heels are back - this time they are sky-high and include fringes, feathers, tassels, ruffles and cut-outs.

Wedges make their comeback this year with decorative elements and prints. The trends in spring sandals are: woven, gladiator and booties. Yes, the gladiators are back again, with more straps than ever.
Fashion trends
For the Spring-Summer season 2010 hit will be large, rounded and soft bags, and the clutch bags - a small purses, designed to be carried in the hand. The large bags are suitable for everyday wear, while the clutch bags are great for formal occasions.

Like the shoes, the bags are decorated with tassels, buckles, eyelets and laces. The tassels are great accessories for your bag, also an interesting option to dress it up, tastefully. Placed on the handbags so that can easily be removed, the tassel decorations are the key points of this season's handbag design.