Tag: ladylike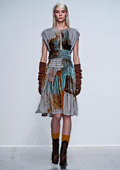 Collections
This ladylike, trendy and fresh collection includes: fur-trimmed wool coats and sweaters, feather-embellished accessories, metallic accents, lamé tops, animal prints (lizard, antelope, crocodile), crinkled dresses, high-waisted trousers, little cocktail dresses, floor-length neoprene gowns, interjected crystal, knitted gloves, chunky belts, embroidered garments, double silk georgette, light flowing velvet, sculpted silhouettes and detailing.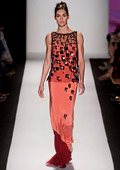 Collections
For her collection for Spring-Summer 2014, Carolina Herrera was looking for inspiration in 50s and 60s art works of Venezuelan artists Jesús Rafael Soto and Carlos Cruz-Diez.
'You are going to be dizzy! It's about Kinetic Art - it's eye-popping!', Carolina Herrera explained.
There are plenty of stripes, curved line patterns and fluttering silk.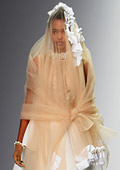 Collections
Irish designer Simone Rocha - daughter of designer John Rocha - presented her Spring-Summer 2014 collection yesterday (September 17, 2013) during the London Fashion Week.
The key elements of this collection are lace, embroidery, tulle and pearls!
It's a combination between the hard and the soft and includes plasticized lace skirt suits, embroidered plastic dresses, stark white coats with pearl-encrusted collars and broderie anglaise corset dresses. Ladylike and elegant!