Tag: olive green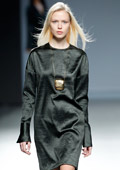 Collections
Sobriety, harmony and femininity without excess. Balanced garments, serenity, given to a collection of looks with a swift look to the 70s.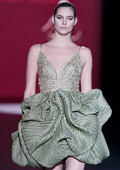 Collections
Having drafted his first design 28 years ago and after showing his 99th collection last season, Hannibal Laguna presents ONE HUNDRED. A collection that encloses the essence that has been characteristic of the brand since its origin. A return to the expression and meaning of classical tailoring as part of its creative process, where the dialogue between the client and author takes place.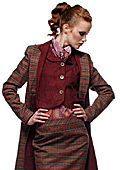 Fashion trends
One of the key Bulgarian fashion trends for Autumn-Winter 2009 are checkered blouses, skirts and jackets, which can be seen in the new collections of the biggest Bulgarian fashion houses.

The topical colors are yellow, brown, beige, grey, dun, olive green, purple, red, blue.

In the new ARDA fashion house collection, Arda-Sport line, we can see combinations with Grey and Yellow in a check design turned into a playful low-cut sleeveless dress and a pleated skirt.