Tag: bikinis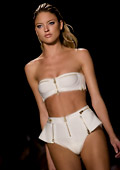 Collections
And now we head to the runway at New York Fashion Week and check out the latest fashion creations by Hervé Léger. Once again, the label's designer duo dismissed the usual "sex appeal" dresses and opted for a more sophisticated look. And meanwhile, they've added swimsuits to their line-up of famed skin-tight bandage dresses.
The Hervé Léger signature bandage dress made its way down the runway on Saturday at the Mercedes-Benz Fashion Week in New York.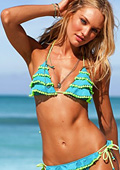 Fashion trends
The best way to start thinking about the summer and your dream vacation is to get to know the latest trends in swimwear for Summer 2012. We picked for you the best suggestions from the fashion shows around the world.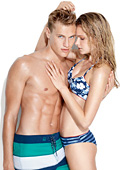 World fashion
JUNGLE FEVER - Bold colours teamed with natural shades give an exotic air to bikinis, cover-ups and men's boxers. Turquoise and brown or beige and magenta create tranquil contrasts, perfect on reversible swimwear. Floral and geometric patterns can be freely paired with irregular stripes. The "fluid" look of viscose creates soft draping on asymmetric cover-ups.

CRUISE TIME - A sophisticated style expressed through two-piece swimwear and cover-ups in dress or maxi playsuit styles. "Neo-batik" blue and white are the prominent colours in a story where purples and taupes also play a role. Beads and metallic or translucent appliqués add a precious touch.