Tag: georgette
Collections
This collection broadens the vocabulary of a woman who is sensual and free. It is the expression of a sincere and determined femininity that appears seductive by accident.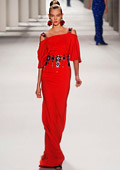 Collections
'There is no reference to the past - I'm trying to go to the future!' said world famous fashion designer Carolina Herrera about her Fall/Winter 2014 womenswear collection.
Carolina offers to ladies both daywear and eveningwear.
For days - volume with rounded shoulders on top (to emphasize a tiny waist), over slim skirts and pants in brown, navy and royal blue; for nights - prints in geometric patterns and rusty shades of blue, bronze and orange.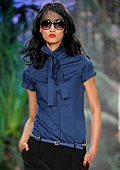 World fashion
Heavy doses of style and inspirations without distractions in the new Sisley collection for Spring-Summer 2012. The common denominator is a vaguely Seventies atmosphere worked in a melting pot of styles and colours.

Exactly like the iconic woman who inspires the range called BIANCA J., the keyword is elegance with a funky rock soul. The allure is masculine but with a seductive femininity. Daytime means trousers worn with a long or short trench coat.